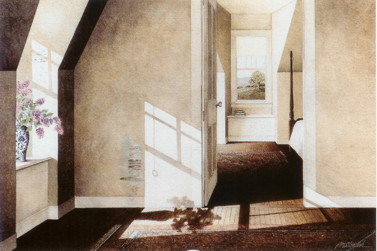 J M Standish
Creating a painting requires so much more than the mechanics of working a brush on paper...talents given or developed, to go beyond the simple illustrating of a subject or an idea. You have to draw from all available resources, one's emotions, dreams, environmental influences, bringing all parts to fruition in a concrete form without losing the passion that compelled you to create in the first place.
Trained in advertising and graphic design, I spent the first twelve years of my career as a commercial Artist while trying to find m way as a painter. In over eighteen years as a professional artist I've come to realize that being self taught in the fine arts has been my greatest asset in developing a distinctive style as a realist painter.
Most often the settings of my paintings are purely fictional, props to set the desired mood, yet highly reflective of the people, places and experiences that have most influenced my work. The mood of a particular painting is probably what inspires me the most when starting a new work. I try to achieve a sense of solace in my paintings, partly in the choice of subjects, partly from the colors, partly by choice of mediums...watercolor and egg tempera.
Each painting creates a new challenge, new discoveries in my mediums, rekindling a spirit within hat makes are more than a rewarding, satisfying profession...it makes art a way of life.
I am currently represented by the Chadds Ford Gallery in Chadds Ford, Pennsylvania, where my works are available year round. along with the Gallery, I continue to take private commissions and show my work in juried art exhibits and museum shows from Massachusetts to Florida. All works are matted and framed to the highest of museum standards.
home