Robert Stack at the Chadds Ford Gallery
ROBERT ROGERS STACK's interest in art began when he was a child growing up in Chadds Ford, Pennsylvania. There he was encouraged to develop his talents by area artists and in the art program at the local elementary school.

Primarily a watercolorist, Robert captures realistic equestrian, architectural, and natural images from his surroundings. Robert is well known for his equestrian artwork. In 1995, his gouache painting of sidesaddle titled Line Up won the Ruth E. Robins Award for watercolor at the American Academy of Equine Art. His paintings have appeared in exhibitions such as the Horse in Fine Art at the Wildlife Experience Museum in Parker, Colorado as well as on the official posters for the Ludwigs Corner Horse Show, Dressage at Devon, and the Devon Horse Show.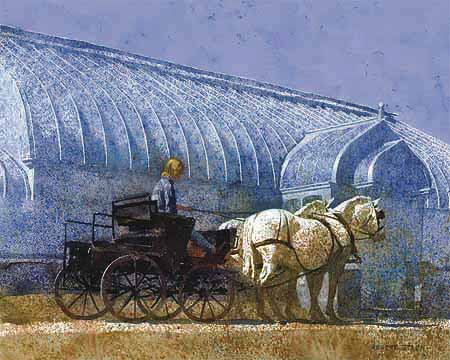 Greenhouse gouache 18"x24"
Robert's extensive background in optics, electronics, and digital technology has led him to the fields of photography, video production, and the developing field of digital printmaking.