Jamie Wyeth at the Chadds Ford Gallery

James Browning Wyeth
(born July 6, 1946) was born in Chadds Ford, Pennsylvania, son of Andrew Wyeth and grandson of N.C. Wyeth..He paints the people, animals, and landscape in and around his hometown of Chadds Ford, Pennsylvania, and at his summer home in Tenants Harbor in the state of Maine.
Jamie Wyeth's works are in the collections of the Brandywine River Museum, the Farnsworth Art Museum, the Terra Museum of American Art, the National Gallery of Art, the National Portrait Gallery, the Museum of Modern Art, and the Fine Arts Museums of San Francisco.
In 1972 Wyeth was appointed a council member of the National Endowment for the Arts. In 1975 he became a member of the board of governors of the National Space Institute. He is a member of the national Academy of Design and the American Watercolor Society. He holds many honorary degrees including from Elizabethtown College (1975), Dickinson School of Law (1983) and Pine Manor College (1987).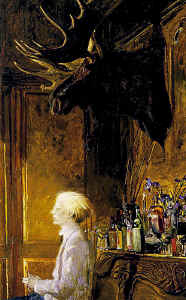 Lunch At The Factory
A New Signed Limited Edition (Giclée) Print

Jamie Wyeth revisits old themes in this portrait of the artist Andy Warhol and a taxidermy moose head at Warhol's "Factory".


Image size 18" x 29" - overall paper size 22" x 25"